Is fear of the dentist holding you back from achieving a beautiful smile?
Sedation dentistry may be the ideal solution for you if:
You've had a bad experience at the dentist.
You dread going to the dentist for any reason.
You have difficulty keeping your mouth open.
You need a lengthy or invasive treatment.
Have you been putting off going to the dentist because you are too afraid that it might hurt or will take too long?
If this sounds like you, then you will be excited to hear that we offer sedation dentistry!
Sedation provides a way of getting dental work done while totally relaxed and completely comfortable. During the procedure you will be very sleepy but you will be conscious and able to verbalize all of your needs and wants. You will be constantly monitored throughout the procedure. It is also important to remember that the sedatives used are amnesiacs and that you will have little or no memory of the procedure when we are done.
I am a white knuckle patient because of traumatic dental experiences as a girl. Dr. Bob Jr. is understanding, patient, and so gentle. His "chairside manner" is wonderfully positive. And his staff is also very helpful and kind to this very nervous lady.

-Jayme
Why people trust Dr. Matiasevich as their Santa Cruz sedation dentist
Feel safe. Dr. Bob has been practicing sedation dentistry in Santa Cruz for 13 years. He has helped thousands of anxious patients achieve comfort with their dental experience and most even overcome their fears.
Trust His Experience. As a general dentist offering sedation dentistry, Dr. Matiasevich helps anxious patients every day. He stays up-to-date with all the latest advances in patient comfort.
Be Comfortable. Dr. Matiasevich is known among his patients as being gentle and easy to talk with. He enjoys connecting with his patients and you will be hard pressed to find another practioner who is as easy going and concerned with your well being as Dr. Bob. Now that you know you will have absolutely no discomfort and virtually no memory of the experience, there is no reason to delay your treatment. Call our office today and let us tell you how this service could be of benefit to you or someone that you know.
I was very frightened, having implant surgery, and a bridge that had been in my mouth for 30 years had to be replaced. The process has been relatively painless, and I'm looking forward to having teeth again…I just feel like I'm in the best hands in the world with Dr. Bob.

-Barbara
In addition to offering a wide variety of I pod music as well as videos, blankets and pillows, Dr. Matiasevich's office offers many amenities to help you relax and overcome your dental fears.
We offer nitrous oxide (laughing gas) which has the added benefits of making time go by faster and immediately being out of your system by the time you leave the dental chair so there are no lingering effects.
We offer oral conscious sedation. This allows you to virtually sleep through your dental appointment by taking a tiny pill before your visit to help you relax and making the numbing process more profound and comfortable.
In addition, we also offer OraVerse, which is an anesthetic reversal agent that reverses the numbing feeling associated with dental work that many patients hate.
Related Sedation Dentistry Articles
Oral Sedation Dentistry
Step out from under the shadow of fear and into the calm of sedation dentistry. There are safe and time-tested options available to ensure that you have a positive and painless dental experience. Your apprehension and hypersensitivity to pain melt away, yet you remain awake and in control… Read Article
Overcoming Dental Fear & Anxiety
It's possible, even for those people who are the most fearful, to reduce their fear and to learn to have treatment in a way that feels calm and safe. Here's how… Read Article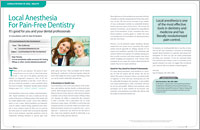 Local Anesthesia for Pain-Free Dentistry
Local anesthesia is one of the most effective tools in dentistry and medicine. It is safe, effective and has totally revolutionized pain control. Without local anesthesia, some dental procedures would be quite stressful for all involved. It's good for you and for your dental professionals… Read Article