Dr. Matiasevich offers a full range of general, family, cosmetic and implant dentistry services to patients in Santa Cruz.
Chipped tooth? Missing teeth? Cracked tooth? Hiding your smile? Whatever your dental problem, Dr. Matiasevich has a solution. He can often restore your smile in just one visit. Restore your smile with a new set of teeth in one day or permanent dentures.
From dental crowns to dental implants or simple dental cleanings and teeth whitening, you can revive your smile.
Dr. Matiasevich and his father have been bringing smiles to Santa Cruz for over 40 years. Call today so you can begin smiling confidently again.
Here is a full list of services for you:


Dental Sealants
Mercury Free Environment
Oral Cancer Screening
Related General Dentistry Articles
The Natural Beauty of Tooth Colored Fillings
The public's demand for aesthetic tooth colored (metal free) restorations (fillings) together with the dental profession's desire to preserve as much natural tooth structure as possible, has led to the development of special "adhesive" tooth colored restorations… Read Article
What is Tooth Decay? – And How to Prevent It!
Tooth Decay is an infection, and many people don't realize that it is preventable. This article is the first in a series about tooth decay, perhaps the number one reason children and adults lose teeth during their lifetime. Explore the causes of tooth decay, its prevention and the relationship to bacteria, sugars and acids… Read Article
Tooth Decay – How To Assess Your Risk
Don't wait for cavities to occur and then have them fixed — stop them before they start. Modern dentistry is moving towards an approach to managing tooth decay that is evidence-based — on years of accumulated, systematic, and valid scientific research. This article discusses what you need to know to assess your risk and change the conditions that lead to decay… Read Article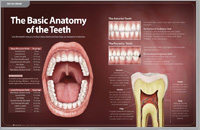 Basic Anatomy of Teeth
Adults have 32 teeth. This includes the wisdom teeth which are simply a third set of molars. It is possible to be born with less than 32 teeth or more than 32 teeth. If a person has had all four of their wisdom teeth removed, they will have 28 teeth…Read Article