Porcelain veneers are thin laminates of porcelain that are bonded to the tooth structure. One of the most successful treatments available in dentistry, porcelain veneers are extremely thin and, at the same time, extremely strong.
A veneer may be as thin as 0.3mm. Together we create beautiful lifelike restorations that mimic nature. We work with our patients' individual needs and wants, and together we create beautiful, natural looking teeth. Our patients leave our office with the beautiful smiles they have always wanted.
Porcelain veneers (Lumineers & Vivoveneers) are used to correct a wide variety of conditions. Below are before and after photos of patients in Santa Cruz who have received veneers from Dr. Matiasevich:
*All photos are of actual patients of Dr. Matiasevich.
Related Porcelain Veneer Articles
Smile Design Enhanced with Porcelain Veneers
In part two of the series on Smile Design, Dear Doctor takes an in-depth look at Porcelain Veneers, a superior yet minimally invasive technique for smile enhancement. We'll explain not only when they're appropriate, but also when they're not… Read Article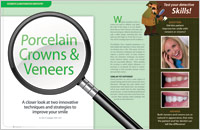 Porcelain Crowns & Veneers
A closer look at two innovative techniques and strategies to improve your smile. In many instances these two restorative techniques can produce nearly identical esthetic results, even though they are structurally different… Read Article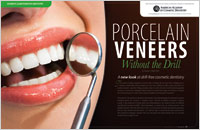 Porcelain Veneers – Without A Drill
No drilling — reality or ridiculous? A no-drill technique requires a second look, as new materials and concepts have created new esthetic possibilities. Reactions and opinions among dentists have ranged from absolute disbelief to moderate acceptance. This article gives hope and reasons for patients to get excited about this conservative drill-free cosmetic technique… Read Article