If you are searching for a Santa Cruz teeth whitening dentist, look no further. Teeth whitening or bleaching can be performed at home or in our Santa Cruz office. Although over the counter bleaching works, some patients needs require prescription strength bleach that can only be dispensed by a dental office.
We offer one hour laser bleaching, custom tray bleaching as well as tres white disposable bleaching. Beaching of the teeth does not harm the teeth or the enamel of the teeth in any way. Side effects are only temporary and may involve irritated gum tissue or cold sensitivity of the teeth.
Dr. Matiasevich is proud to offer Opalescence Tooth Whitening Systems.
Related Teeth Whitening Articles
Teeth Whitening – Brighter, lighter, whiter…
The subconscious impact of a white smile is radiant health, happiness, warmth and invitation. This phenomenon has been reinforced with the spread of American culture worldwide, where an especially white smile has even been coined a "Hollywood smile." Today brighter, lighter, whiter teeth have become a norm. Tooth whitening by bleaching is a successful, conservative, relatively inexpensive and safe alternative… Read Article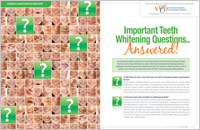 Important Teeth Whitening Questions Answered!
In Dear Doctor's interview with nationally noted teeth-whitening expert Dr. Van B. Haywood, he answers questions about bleaching techniques and safety in achieving the best possible results. If you are thinking about getting your teeth whitened at your dentist's office or doing it yourself at home, this is a must-read… Read Article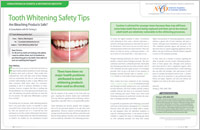 Tooth Whitening Safety Tips
There have been no major health problems attributed to tooth whitening products when used as directed. Many studies have confirmed this, and we will share some of these findings with you… Read Article